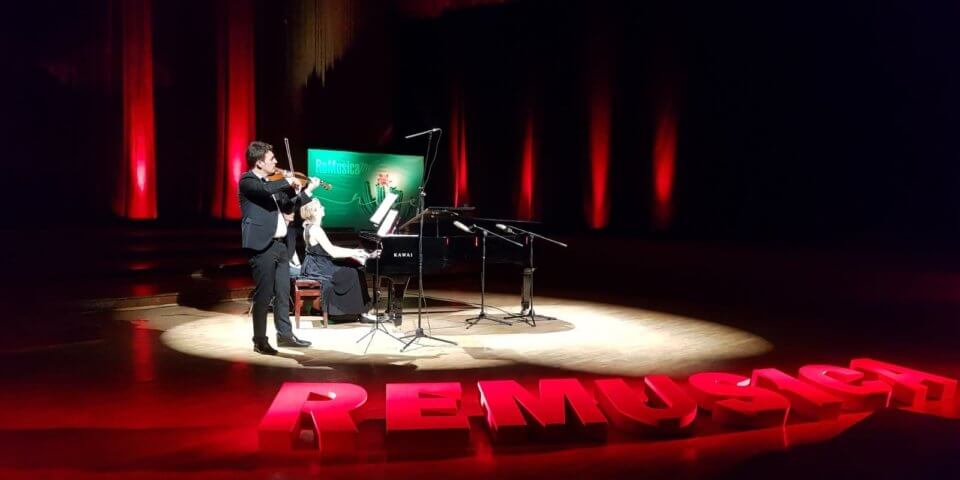 "There is no theory. You have only to listen. Pleasure is the law. I love music passionately. And because l love it, I try to free it from barren traditions that stifle it." (Claude Debussy) We should base our listening of the concert on the words of the great french composer.
The two talented musicians Visar Kuçi (violin) and Lirika Pula Kasapolli (piano) tonight proved us that it is true, that we can abandon ourselves to the pleasure of listening. The first piece of the concert was the 'Sonata' of Debussy, composed between 1915-1917, when the composer was already sick and near to die during the WWI. The style of the Sonata is far from the impressionist poetry and a clear melodic line is remarkable.
The french atmosphere continues with the "Violin sonata in A major" of César Franck composed in 1886 as wedding gift to the violinist Eugène Ysaÿe. The Sonata is certainly one of the masterpiece of the chamber music of the nineteenth century and it shows a clear and elegant harmonic language.
Lili Boulanger's pieces showed clearly an influence of Debussy's Impressionism, especially the "Nocturne". She was the sister of the well-known Nadia Boulanger and she had a tragic life since she died at 25 years, that is the reason why we don't have so many compositions.
Manfredo Gambino
Musicologist