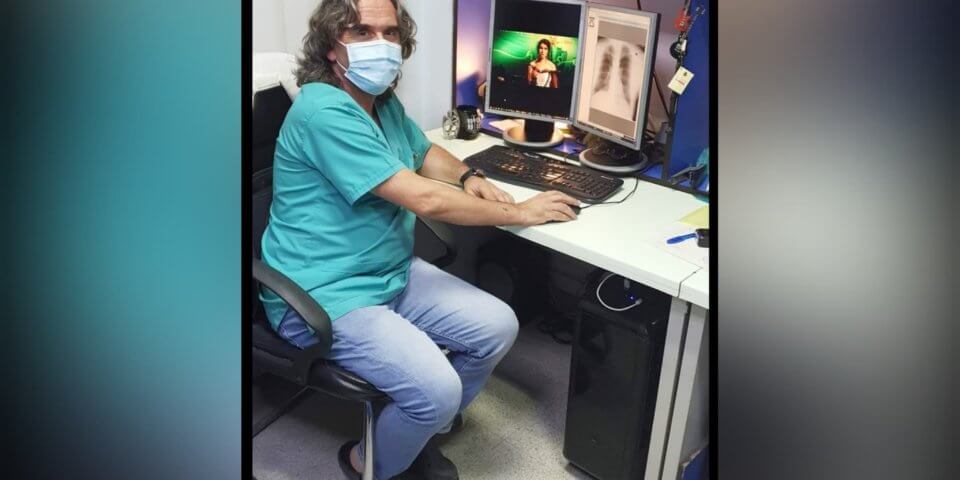 Mbrëmë teksa ndodhte koncerti i artistëve nga Kosova: Besa Llugiqi dhe Misbah Kaçamaku, në kuadër të ReMusica Festival, pranuan nje fotografi me një mesazh "Edhe COVID19, luftohet më lehtë me muzikë të mirë e artistë fantastik!"
Është fjala për fotografinë e Dr. Sylejman Krasniqi, radiolog në Spitalin Rajonal të Prizrenit, adhurues i muzikës dhe përcjellës i madh i Festivalit ReMusica, gjë që fotografia edhe na e tregon.
Tash gati njëzet vite kemi punuar në vazhdimësi që të sjellim një program të përpiluar me kujdes, në mënyrë që të përmbushë nivelin artistik dhe programor, gjithnjë në trend me kohën, apo në vendosjen e trendeve.
Megjithatë, misioni është që ajo copë muzikore nga skena të përmbushë qëllimin e ekzistencës së vet muzikës, si ushqim dhe kujdes për shpirtin dhe mirëqenjen tonë.
Në këtë stratosferë digjitale, për shkak të rrethanave të jashtëzakonshme, arritëm të vizitojmë pjesën më intime dhe të ndjeshme të jetës së publikut që të përmbushim misionin tonë dhe këtë nuk e tregon më mirë se sa fotografia e dërguar nga Dr. Krasniqi.
I jemi mirënjohës secilit që gjatë këtyre muajve u kujdesët për mirëqenien tonë, në rradhë të parë mjekëve, si Dr. Krasniqi, në linjën e parë të mbrojtjes nga pandemia, tek prodhuesit e të mirave ushqimore që mbajtën të furnizuara dyqanet dhe punëtorët që ndejtën dita ditës në shërbimin tonë, mësuesit dhe profesorët që po kujdesen të mbajnë në jetë arsimin në këto kushte të vështira, e shumë e shumë të tjerëve.
Misioni është larg përmbushjes, ndërsa motivi që na vjen nga publiku dhe artistët vetëm sa vjen e shtohet.
*
A picture worth a thousand words!
Last night we received a photo that thrilled us all. It is the photo of Dr. Sylejman Krasniqi, radiologist at the Regional Hospital of Prizren, music lover and great follower of the ReMusica Festival, as the photo shows us.
For almost twenty years now we have been working continuously to bring a carefully crafted programme, in order to meet the artistic and programming level trends, as well as in setting these trends.
Yet the mission is for that piece of music presented from the stage to fulfill the purpose of the music's own purpose, as nourishment and care for our soul and our well-being.
In this digital stratosphere, due to extraordinary circumstances, we managed to visit the most intimate and sensitive part of the public life, in fulfillment of our mission and this could not be shown better than in the photo sent by Dr. Krasniqi.
We are grateful to everyone who during these months took care of our well-being, primarily doctors, such as Dr. Krasniqi, in the first line of defence from the pandemic, to the producers of goods who kept the shops supplied and the workers who stayed day by day in our service, the teachers and professors who are taking care of our education in these difficult conditions, and many many others.
The mission is far from being fulfilled, while the motivation we receive from the public, as well as the artists only increases.