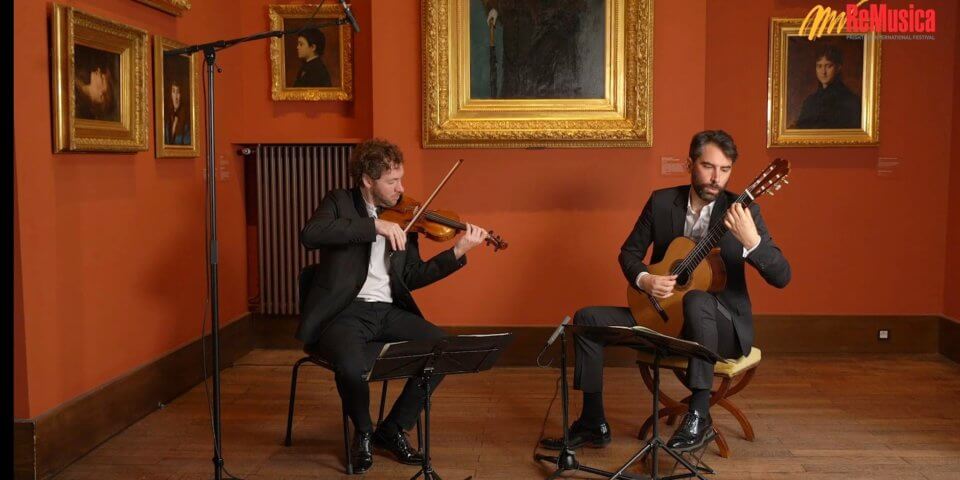 (english below)
Skenografia e mrekullueshme e koncertit do të ishte arsye e mjaftueshme për t'u ulur dhe për të shijuar koncertin, por nëse performuesit janë ata siç ishin : Jérémy Jouve (kitarë) dhe Pierre Fouchenneret (violinë) kombinimi është edhe më i përsosur.
Koncerti u luajt në Paris, në Muzeun Kombëtar 'Jean-Jacques Henner', shtëpia e dikurshme e piktorit Guillaume Dubufe që më vonë u kthye në një muze kombëtar. Performanca ishte brilante dhe ekspresive pikërisht si stili i muzikantëve!
Koncerti u hap me 'Sonatën op 5 n 11' të Arcangelo Corelli (1653-1713), një nga kompozitorët më të mëdhenj barokë italianë që ishte gjithashtu një violininist virtuoz. Jeta e tij nuk ishte e lehtë, meqë vuante nga një depresion i thellë që evoluoi së shpejti në një 'çmenduri' të vërtetë. Corelli ishte një novator i vërtetë i gjuhës muzikore dhe ai ishte i pari, madje edhe para Bach, që imagjinoi instrumentin e tij "aktorin e parë '.
Suita spanjolle "Suite Espagnole"e kompozitorit spanjoll Manuel de Falla na tregoi një studim të vëmendshëm të muzikës popullore spanjolle, me një hulumtim krijues shumë interesant të frymëzuar nga avangardat e fillimit të shekullit XX. Si rezultat është një pjesë dinamike që sjell audiencën në një atmosferë të ngrohtë jugore. Shumë afër të së njëjtës atmosferë është edhe 'Danse espagnole' i Enrique Granados (1867-1916), pjesa tingëllon aq mirë me kitarë sa është e çuditshme të mendosh se si nuk nuk ishte shkruar për të fillimisht.
Theks të veçantë për premierën botërore 'Viotar' nga kompozitori kosovar Kreshnik Aliçkaj, vepër e porositur nga ReMusica Festival. Alickaj bëri një punë të madhe për këtë koncert në Paris. Jérémy Jouve dhe Pierre Fouchenneret gjithashtu interpretuan 'Petite suite pour guitar' nga kompozitori kosovar Rafet Rudi i cili gjatë karrierës së tij, ka shkruar shpesh për kitarë. Kjo vepër u botua në Francë dhe 'udhëtoi' shumë nëpër festivale dhe koncerte anë e mbanë Evropës.
Editimi i videos la mjaft përshtypje, ishte shumë dinamik dhe i bukur, përderisa ideja që koncerti të përfundoi me 'La barcarola', një këngë tradicionale venedikase, një nga të preferuarat e Jean Jasques Henner ishte ide e mrekullueshme.
Si përfundim, ideja e organizimit të koncerteve të tilla në vende si muze ose galeri duhet të promovohet sepse ajo mund të krijojë një vlerë të shtuar midis arteve – Art në Art.
Manfredo Gambino, muzikolog
___
L'ART DANS L'ART | Jérémy Jouve & Pierre Fouchenneret at ReMusica Festival 2020
The magnificent scenography of the concert would be reason enough to sit and enjoy the concert, but if the musicians are Jérémy Jouve (guitar) and Pierre Fouchenneret (violin) the combination becomes perfect.
The concert was played in Paris at the National museum 'Jean-Jacques Henner', the former house of the painter Guillaume Dubufe turned into a national museum.The performance was brilliant and expressive exactly as the style of the musicians.
The concert opened with the 'Sonata op 5 n 11' of Arcangelo Corelli (1653-1713), one of the greatest baroque italian composer that was also a violin virtuoso. His life was marked by a deep depression that evolved soon into a real 'madness'. Corelli was a real innovator of the musical language and he was the first, even before Bach, to imagine his instrument as 'first actor'.The 'Suite espagnole' of the Spanish composer Manuel de Falla showed us an attentive study of the popular spanish music with a creative interesting research inspired by the avant-gardes of the beginning of the XXth century. The result is a dynamic piece that brings the audience to a warm southern atmosphere.
Very close to the same atmosphere is the 'Danse espagnole' of Enrique Granados (1867-1916), the piece sounds so well with the guitar that it is strange to think that originally it was not written initially for it
Special mention to the world première 'Viotar' by the kosovar composer Kreshnik Aliçkaj commissioned by ReMusica Festival that certainly did a great job for this concert in Paris. Jérémy Jouve and Pierre Fouchenneret performed also 'Petite suite pour guitar' by the kosovar composer Rafet Rudi who during his career, wrote very often for guitar. This piece was published in France and 'travelled' a lot through concerts and festivals around Europe.
It's impressive the dynamic in the editing of the video, while it was a great idea to end the concert with 'La barcarola', a traditional venetian song, one of the favourite of Jean-Jasques Henner.
The idea of organizing these kind of performances in places such as museums or galleries should be promoted, because it can create a valid of integrations among arts – L'ART DANS L'ART
 Manfredo Gambino, musicologist